Warmcore Aluminium Thermal Performance Doors
Strong and secure, Weathershield Warmcore doors come with class leading security built in, backed by a comprehensive 10 year product guarantee. Inwards or outwards opening doors up to 6m wide, with as many as 7 opening sashes glide along custom designed tracks. While a wealth of colour, style and configuration options help you to choose the perfect warm, secure and beautiful door for your home.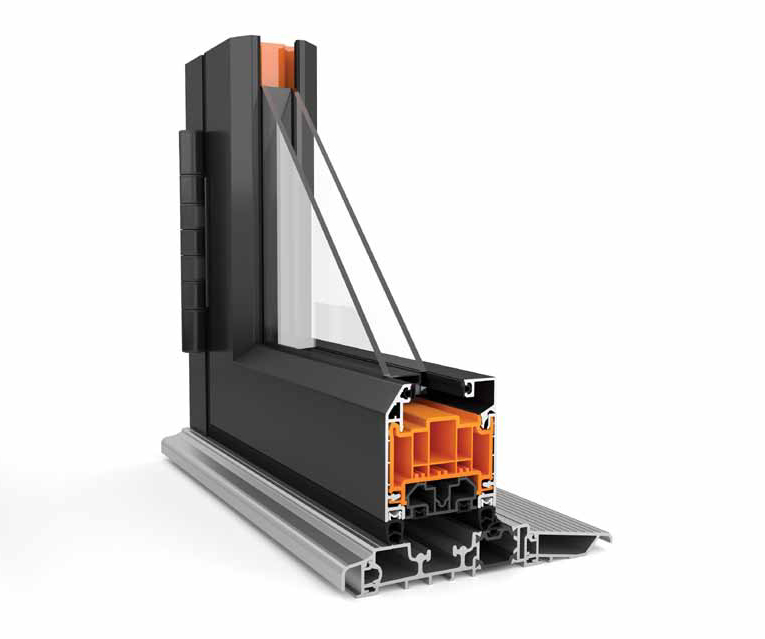 Built With A Revolutionary Thermal Core At Its Heart
Built around a belief that beauty doesn't have to compromise performance, Weathershield Warmcore aluminium folding sliding doors were created out of a desire to combine the desirability and durability of aluminium with unparallelled insulation. The orange thermal core – hidden away in the finished doors – is key to why Weathershield doors are up to 75% more thermally efficient than traditional New Zealand aluminium systems. Weathershiled performance doors are key to a thermally efficient home.
Triple Glazing – For Ultimate Thermal Performance
Robustly designed to take the weight of triple glazed units as standard, choose this option for the ultimate thermal performance – at least 75% better than standard double glazed aluminium folding sliding doors.
Opting for 44mm triple glazing rather than standard 28mm double glazing reduces the whole door U-Value rating from 1.23 to 0.91. Triple glazing is ideal for Weathershield doors installed in exposed locations.
better thermal performance than standard double glazed aluminum folding sliding doors.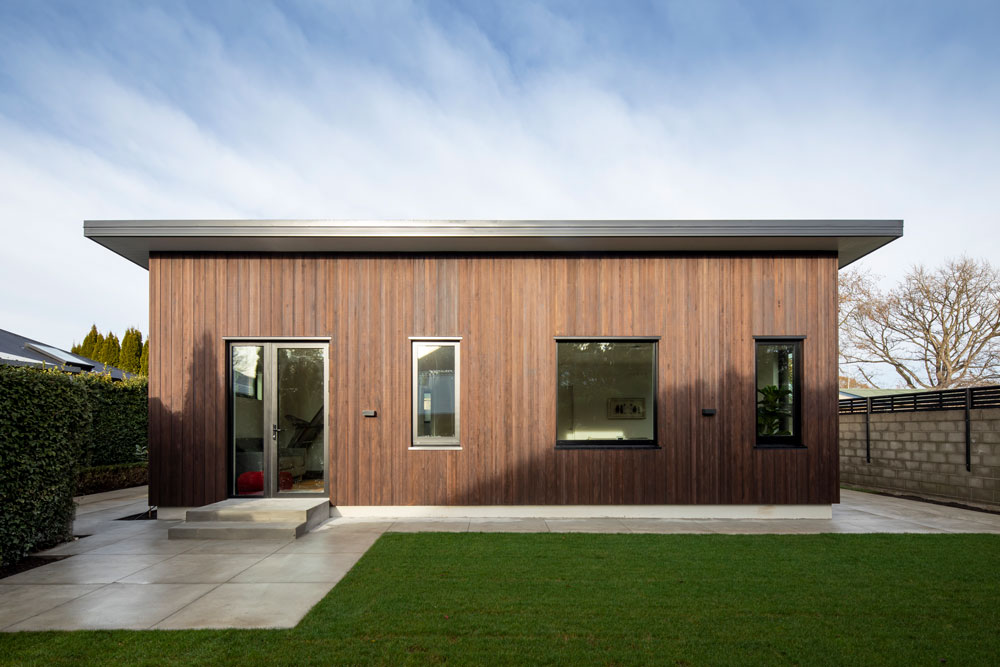 Weathershield Warmcore, The Warmer Choice That Saves You Money
The traditional weakness of aluminium doors has been the aluminium itself. While a beautifully strong and hard-wearing material, aluminium is a good conductor of energy. Meaning that the warmth from your home finds an easy path outside, leaving you colder and with higher heating bills. Most aluminium folding sliding doors try to overcome this inherent weakness by replacing a section of aluminium with a small thermal break of less conductive material to lessen this heat loss.
Synseal Extrusions in the UK took a different approach, from inception this revolutionary folding sliding door was designed to be as thermally efficient as possible. Built around a full width UPVC thermal core – maximising the use of low conductive material – Weathershield Warmcore is up to 75% more efficient at keeping heat in your home than traditional aluminium doors, yet it doesn't compromise strength as the outer faces of the profile are high grade aluminium, positioned to add the greatest structural rigidity.
Helping Transform Your Living Space
Modern living is about creating spaces that work for you and your family, that adapt to the needs of the moment. Gone are the days of rigidly defined spaces. Weathershield Warmcore folding sliding doors were born from this ethos, and their flexibility helps your home become a space that works for you. Open and airy on beautiful summer days, warm and insulating in the colder months. Weathershield doors help integrate outside living space with interiors, enhancing both. Truly transformative, our doors will help breathe life and light into your home.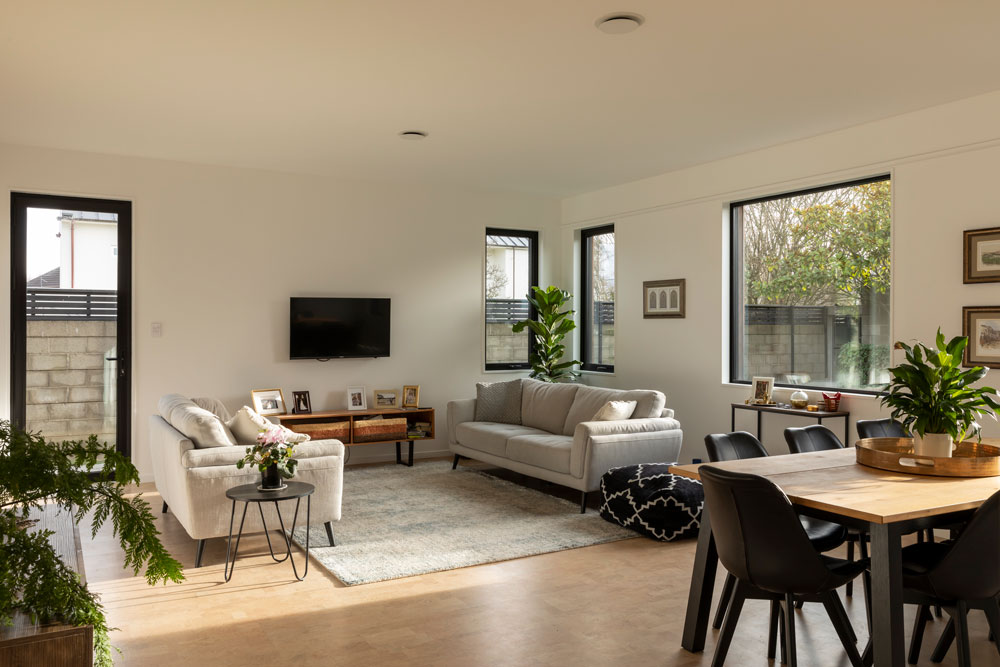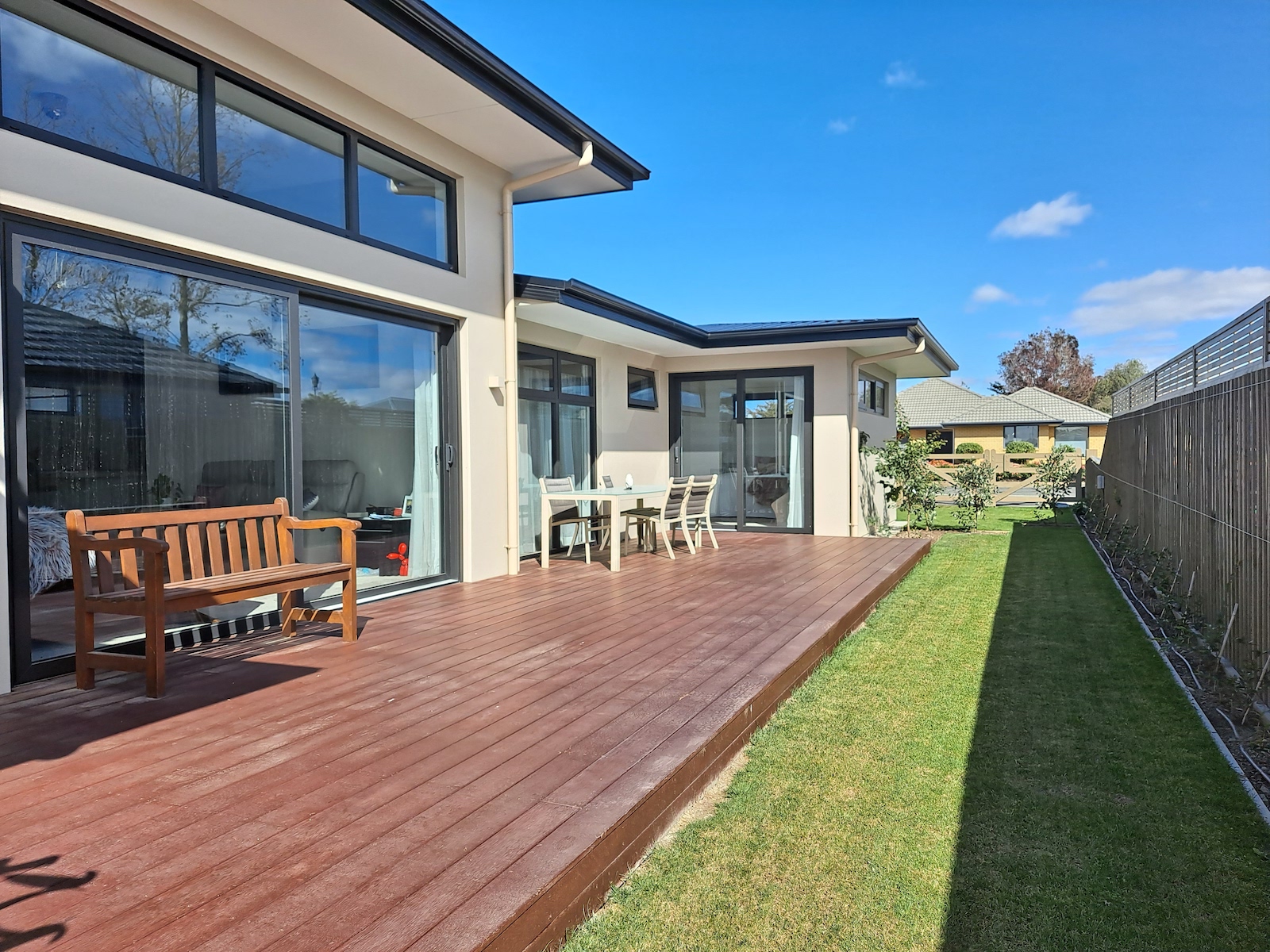 Warmer By Design
Weathershield Warmcore has been designed from the ground up to offer market-leading thermal performance, and comfortably exceeds the requirements of current Building Regulations. Traditional aluminium doors struggle to balance aesthetics with thermal performance. Weathershields Warm Aluminium gives you both, with its innovative full width thermal core. This unique composite construction creates the most thermally efficient folding sliding door in its class. This design philosophy has produced a folding sliding door system that has exceptional thermal performance, helping keep fuel bills lower and heat in your home, while retaining the sleek and architectural look of aluminium.
Practical For Everyday Use
The innovative design of our folding sliding doors enables you to split the door sashes in whichever way that suits your home. You can have all the sashes fold to the right or left, or have them split in any combination you choose.
A popular configuration is to have a single door at one end, called a traffic door.
This allows you to leave the majority of the door sashes locked in place, using a single door for everyday use.
In addition certain door configurations offer even more practicality, as the door sashes that meet in the middle, or at one end, can be used as a set of french doors – when you don't need, or want, the doors fully open.
This flexibility enables you to use your weathershield warmcore folding sliding doors in a way that suits you, rather than being forced to fully open them every time. Leave that until you are entertaining or when the day is so good it deserves to be let in.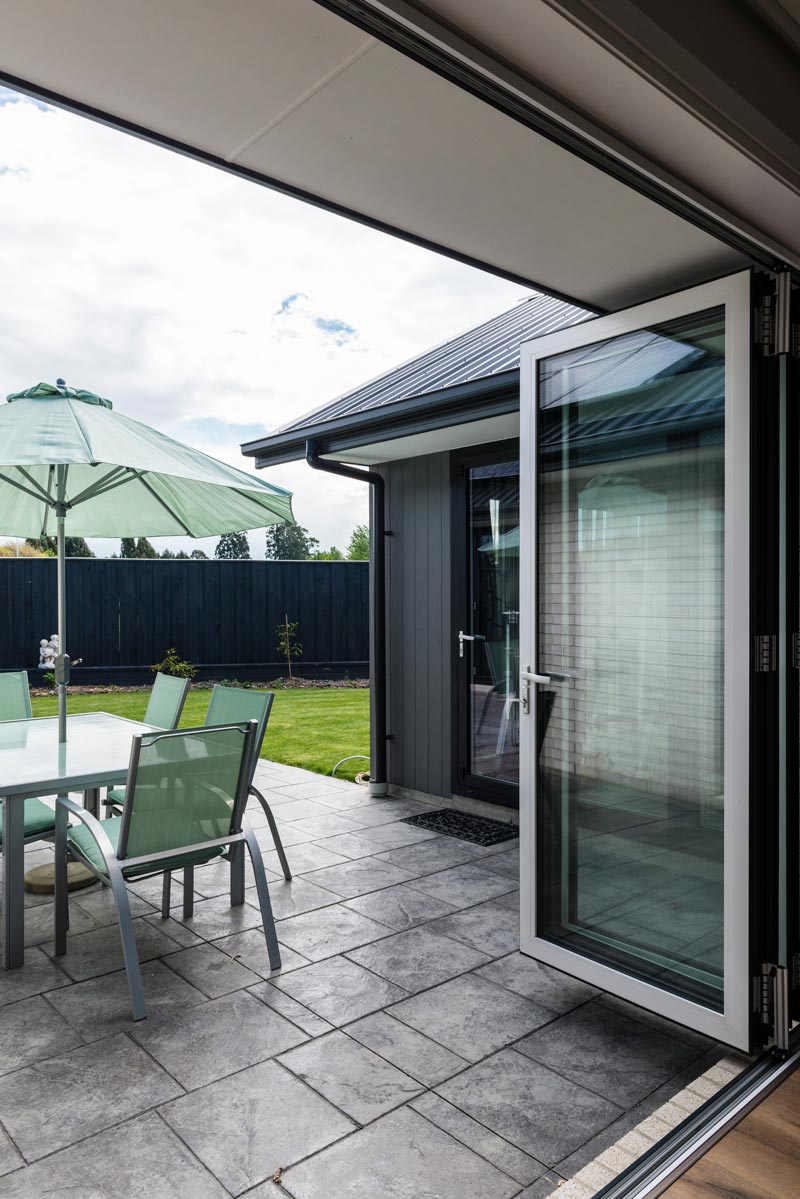 Style Options
Whatever the style of your home, Weathershield folding sliding doors have the options that enable you to create the door that matches your needs. We offer 2 styles – chamfered and square edge on the external face, and chamfered and square edge on the internal glazed bead. Double-glazed 28mm and triple-glazed 44mm sealed glass units are also useful options with Weathershield.
Available in a choice of more than 45 powder coated colours, Warmcore's unique composite construction enables you to choose a different colour for the interior of your door from the outside, at no extra cost. There is also a choice of 2 threshold options and a choice of 2 handle finishes,
Matt Black and Satin Silver.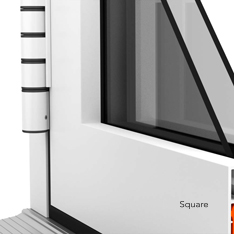 Graceful Handles…
Door handles gracefully curve around door sashes when open, tucking into the glass reveal and allowing the door sashes to fold perfectly flat.Door handles gracefully curve around door sashes when open, tucking into the glass reveal and allowing the door sashes to fold perfectly flat.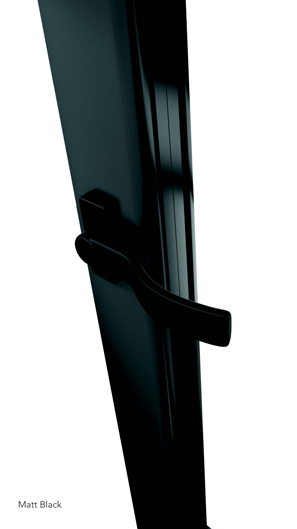 In 2 Finishes
Available in 2 hard-wearing finishes, anodised Matt Black and Satin Silver, choose the perfect match to complement your door.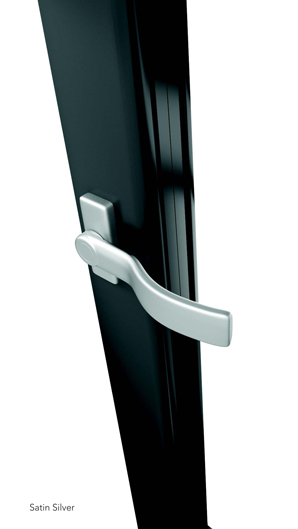 Built To Last
Made to the same exacting standards as the rest of the Weathershield door, the anodised finishes are ideal for use in coastal or exposed locations.
Threshold Options
Weathershield doors currently come with 2 threshold options, including an ultra low aluminium threshold that helps to avoid trip hazards. Alternatively if you have a step down from your door opening a choice of sills is also available. Configurability is key and you can be confident that Weathershield has the right option for your home.
Aluminium low threshold – 1
Outer frame – 4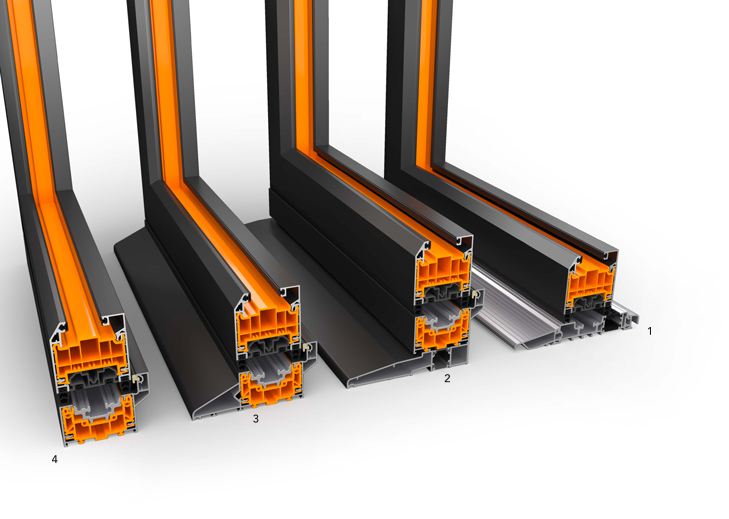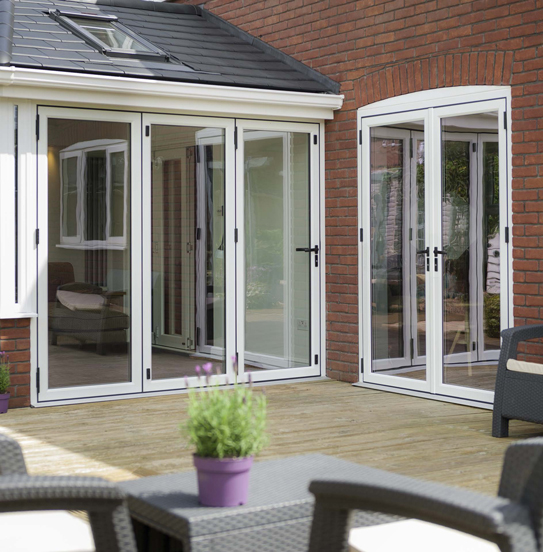 Single, Double & Patio Doors Complete The Range
Weathershield's comprehensive door system includes our large opening inline sliding patio door, french (two opening) doors, and residential (single opening) door. Whilst the inline patio door offers a perfect alternative to our bifold, our french or residential doors offer the same exacting standards, at a more modest size. Openings that are two door sashes wide can still be specified as folding sliding if you prefer, with the door sashes folding to the left or right as required. With Weathershield Warmcore – it's your choice.

Weathershields Warmcore inline patio doors allow natural light to flood in to your home through large glazed sashes that maximise the enjoyment of your view. The full width thermal core at the heart of Weathershields Warmcore range lets you enjoy the desirability and durability of aluminium, while keeping your home snug and warm. Custom designed 10 wheel rollers glide effortlessly on a precision engineered track, making these panoramic doors the perfect blend of aesthetics and performance.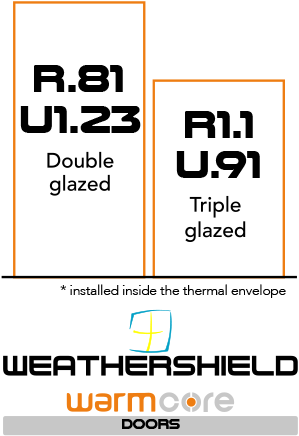 With triple glazed U-values (used to calculate thermal efficiency) as low as .91 and double glazed values of 1.23, your Warmcore patio will help keep heating bills low.