Strong Construction Built With Enhanced Security
From the unique 5 point lock, designed to run the full length of the door sash, to the high strength hinges and rollers; each element of Weathershields door combines to ensure optimum security.
Weathershields Warmcore aluminium construction, custom-made roller assemblies – sitting deep within the top and bottom tracks – and extruded aluminium hinges make them inherently strong and secure. Added security features such as integral shoot bolts bind the door sashes together when closed, protecting against forced entry.
A custom designed door lock, available on no other door system, uses a 5 point locking system with 3 opposed hook locks and twin shoot bolts – that engage fully into the aluminium top and bottom tracks – helping keep you and your family safe and secure. Weathershields warmcore aluminium windows and doors have an internal glazed option for added security.
Secure Aluminium Windows And Doors
Certified to PAS24:2016, the benchmark in enhanced security performance requirements for windows and doors in the UK, makes this systems security stand out on it's own in NZ.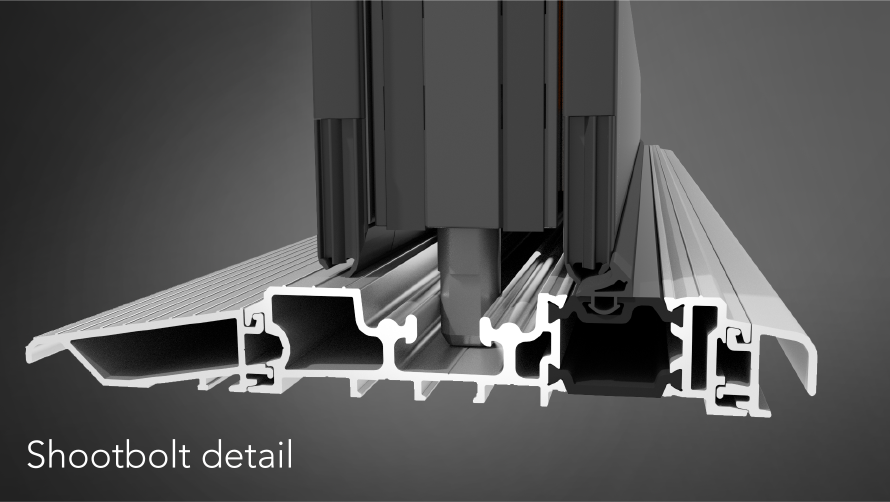 Security Built-in
Every Weathershield Warmcore patio is independently certified to PAS24-2016, the benchmark in enhanced security performance requirements for doorsets and windows in the UK. Each door is also fitted with a high security 'Anti-snap' and 'Anti-bump' Yale Platinum 3 Star cylinder, designed to provide maximum security against known cylinder attack methods.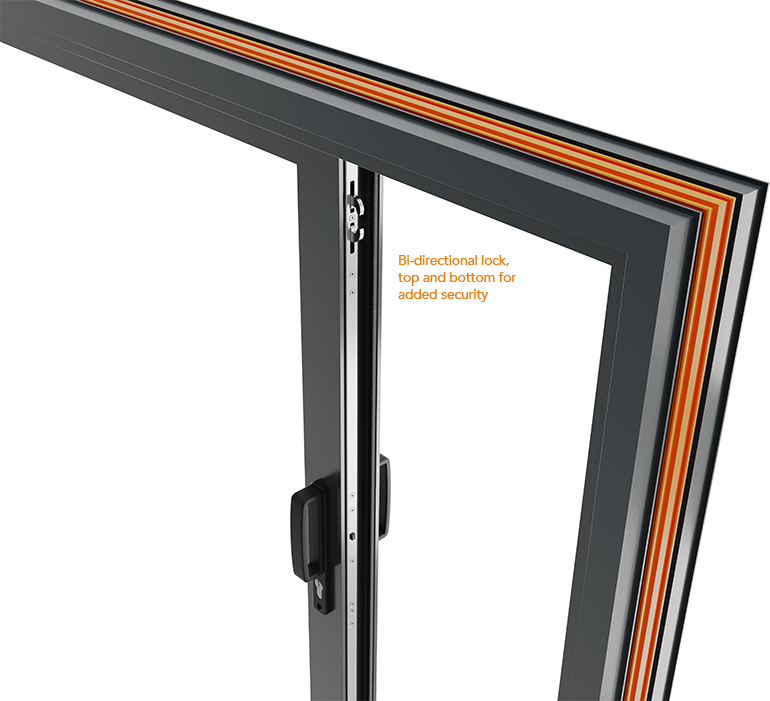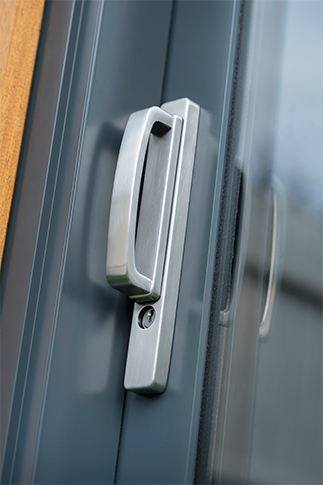 Innovative Handle & Lock
With an emphasis on clean, modern aesthetics we custom designed a high quality 'lift-to-lock' handle unique to the Weathershield Warmcore patio. This innovative handle operates the bi-directional locks located at the top and bottom of the door. These 'claws' make Weathershield Warmcore patios incredibly secure, helping protect you and your home.
Class Leading In Every Way
All of Weathershield Warmcore opening sashes feature the most advanced cam lock locking mechanisms. Due to the solid construction of the window sash profile it is made possible to fit an internal gearbox, driven by the handle. This provides multi-point locking along the full width of the sash. The cam lock system also features a two position lock-keep which enables the operator to lock the sash in a vented position. All of Weathershields push button operated handles come with a key to lock the button for extra security. Weathershields handles and locking mechanisms have been extensively tested and certified to PAS24-2016, the benchmark in enhanced security performance for windows and doors in the UK.